We are less than a week from the end of the campaign! Here is a video from Dan Haseltine (Jars of Clay & Blood:Water) who has been helping us with co-production and co-writing, and a blog about The Story of my own Discovery. 
As you all know, we are deep in the process of creating this album and have almost reached the end of the campaign. We are now at 79% of our goal with ONE WEEK LEFT!!! We will only receive everything that has been contributed if we meet our goal…so please help us reach it!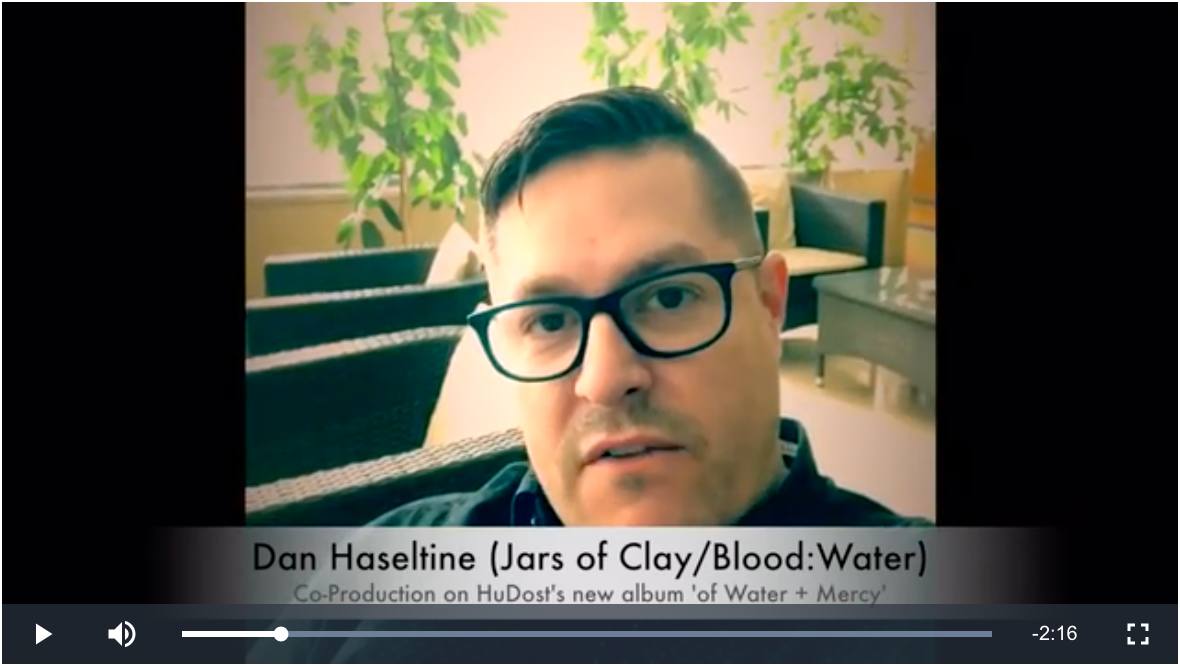 I want to share something really personal with you. As many of you know, Jemal Wade and I are KY Congressional District Reps for ONE (a non-profit organization working to end extreme poverty). We received an email just a few days ago from our friend Scoggins (who manages all of the Reps in the South East US) thanking us for being in the role of reps for three years. It was a powerful reminder for me. Doing the volunteer advocacy work that we do with the support of people in our community and seeing over and over the actual change that it creates is a huge part of what keeps me inspired as a musician, artist, and person. Before committing to this work, I had actually become really confused, cynical, and frustrated. I think we all find different ways of being of service to others and I know that many of you are deeply devoted to that work through different causes and means, but at the time I had not yet found my means. I felt exhausted by the continuous banter that I was encountering in people and on social media that seemed to be polarizing all issues and not fostering any type of positive dialogue or literal change. I was sick of hearing ideology without compassionate action and in my own self, while I felt that our music was a tool of inner healing for people, I knew that I needed to do something more hands on. I did not realize the power of that turning point for me. 
One would probably guess that we met Dan Haseltine from Jars of Clay through our music work but it was actually through our work with ONE that we connected with Dan. I'm about to sound like a dolt, but I had never heard of Jars of Clay (sorry Dan). After meeting him, we worked backwards through their catalog and became instant fans, gobbling up all their amazing song-writing, production, and melodies. Every year in February we go to DC for a ONE conference to learn about what is currently underway and do lobbying work where we have meetings with all the congressmen and senators in order to propose the next steps that will aide people living in extreme poverty. In the first year that we did lobbying, we'd had an incredibly long, exhausting, but fulfilling day of meetings with all of the KY congressmen and senators. At the end of the day, we had a dinner with all of the other ONE reps and leaders for which ONE had brought on board a few speakers who are deep in this work. Dan was one of them. When Dan stepped up to the platform he quietly, simply, and genuinely spoke about the work we are doing and the reminder of the power of collective voices on behalf of those who do not have the ability, and sometimes even the rights, to be heard. His speech left me in tears and I, of course, asked, "who the heck is that guy?" It was only in the following days and weeks that I discovered his music and was moved again but through a different means. 
It has been since that time that we've discovered each other's political, social, and musical voices and have had the privilege to work together in various capacities. Dan is one of the founders and primary voices for Blood:Water. Blood:Water equips African organizations as they work to address the water and HIV/AIDS crises in their communities. A portion of the proceeds from our album campaign will be going to Blood:Water. Above is a video that Jemal put together that shares more about the album, Dan's role, and Blood:Water. And, on a side note, Since that time, with an amazing team of other ONE volunteers and the voices of communities, we have also been able to pass a number of bills that have allotted foreign aide to bringing sustainable electricity to Africa, providing equal opportunity for education to girls and young women in places of extreme poverty, and creating positive economic trade. You can learn more about this HERE (and about how to be involved). 
I think one of the things that I didn't fully understand before delving into all of this work is that it is through aiding to empower others that I would find my own empowerment. By being involved, I feel more inspired, innocent, and hopeful than I had in a long, long time. I give gratitude to all of you who empower through your own means and work in the ways you are guided, and to those of you who are discovering what that means for you in your life. While I am blabbering about this work, there are many of you who give in ways that do not receive acknowledgement and there are many of you doing humble good in the world. Thank you. 
We are also very thankful for the generosity and empowerment to and for our music that has already come through the campaign. If you have not yet had an opportunity to do so and would like to be part of the fruition of this project I encourage you to give HERE. These last 7 days are important ones in reaching our goal! 
Thank you so much, 
Moksha 
PS If you would like to see more videos featuring other musicians who are involved with the album, check them out here: https://www.pledgemusic.com/projects/hudost/updates